Lancaster Improv Players Show Schedule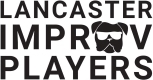 All tickets are $5 General Admission (Unless noted otherwise), first come first served. We also stream our shows to Twitch (https://www.twitch.tv/LancasterImprovPlayers)
All shows listed below are part of our Share a Laugh, Share a Meal program, see Giving Back for more information.
Are you interested in private shows for your company, or for your private event? We do that! Find out more here
Find out more about our house teams here
If I come to a show, will I be picked on, forced to participate, or embarrassed?
NO! Absolutely not. We foster a fun, supportive, and low-stress environment for our audience. The only ones who should be worried about performing should be the performers! We do ask our audience for suggestions, which usually come in the form of single words or short phrases. Occasionally we do ask for a volunteer who is willing to be interviewed on stage. We're always clear in what we're looking for and no one is ever singled out!
Are there any age restrictions?
There are no age requirements for shows.
Show content is likely to be a strong PG-13 on any given night or show unless it is promoted as a kids/family show. We do not strive to be offensive but you are likely to hear some language and some adult themes ranging from PG-13 to R rated. As far as bringing children – we leave that up to the discretion of the parent. We recommend 18+, but we will not turn anyone away.
Do I need to buy tickets in advance?
No, though advanced tickets can be purchased through our Eventbrite here. Pop in and buy your tickets at the door on the day of the show. Capacity is limited for Covid safety, so we recommend being there a little early or purchasing in advance to get your tickets and find a good seat.