Lancaster Improv Players Theater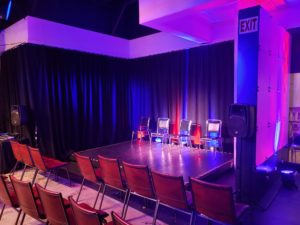 Lancaster Improv Players has weekly improv shows at our improv theater and our Twitch digital stage. Shows are every Saturday at 8 PM EDT and 1st and 3rd Fridays at 8 PM EDT. See our Show Calendar for more details
Lancaster Improv Players teaches Improv Classes, Workshops, and Drop-Ins. These are available over zoom while our space is dark. They are all a ton of fun.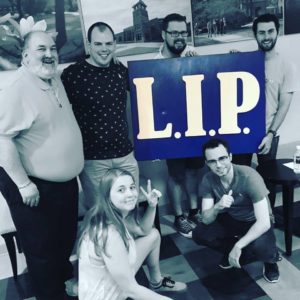 Lancaster Improv Players shows all provide a meal for a child in Lancaster, PA with every ticket sold. We call it Share a Laugh, Share a Meal. We also give back in other ways, find out more:
Lancaster Improv Players is a 501(c)3 nonprofit formed in Pennsylvania. We are based out of our theater in Lancaster, PA. Please consider donating to support our work
About Us
Lancaster Improv Players (LIP), founded in 2015, has performed throughout Pennsylvania.
LIP became an independent nonprofit organization in 2019. We opened up our first improv theater at 10 S. Prince Street in August 2019. In May 2020, we moved nearby to our present location at 16 S Prince Street in Downtown Lancaster, Pennsylvania. LIP teams perform on our stage weekly. We offer an entertaining mix of long- and short-form, crafting an unforgettable experience for the audience!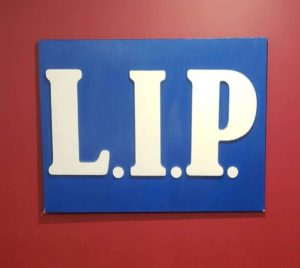 Share a Laugh, Share a Meal
Every ticket sold as part of our SHARE A LAUGH, SHARE A MEAL program provides a meal to a child in need. We selected The Mix at Arbor Place's "What's for Dinner" program as the recipient of these funds.
If you want to donate directly to them, click here. They do great work.
Latest Update
Hi folks,
We are currently dark at our new location at 16 S Prince Street. This is for the health and safety of our community, our performers, and our customers. We plan to adopt sensible measures to ensure health and safety when we eventually do reopen. We do not know when that will be yet.
While our space is dark for in-person events, we are attempting a more virtual existence. We have shows broadcast to our Twitch channel (Twitch.tv/LancasterImprovPlayers). These shows are on most Saturdays & the first and third Fridays of the month. Virtual classes are available via Zoom. Keep an eye out for further updates.
If you do enjoy what we do and can't wait for us to reopen, please consider giving us a donation. This will help us cover our expenses while we are dark. We completely understand if you're not able to do so. There is so much going on in the world there are so many worthy causes for you to support. See our donation page for more information or to donate.
Take care of each other Lancaster
Much love, The Lancaster Improv Players