Lancaster Improv Players Theater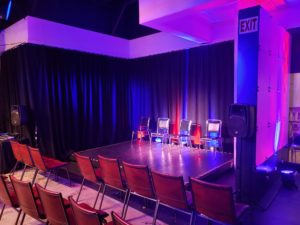 Lancaster Improv Players has weekly improv shows at our improv theater and streamed to our Twitch digital stage. Shows are First, Second, and Third Saturdays at 7:00 PM and 8:30 PM Eastern. See our Show Calendar for more details
Lancaster Improv Players teaches Improv Classes, Workshops, and Drop-Ins. They are all a ton of fun.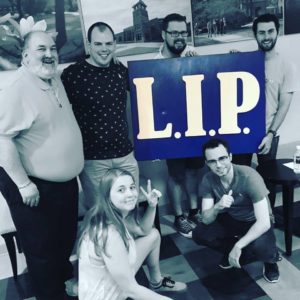 Lancaster Improv Players shows all provide a meal for a child in Lancaster, PA with every ticket sold. We call it Share a Laugh, Share a Meal. We also give back in other ways, find out more:
Lancaster Improv Players is a 501(c)3 nonprofit formed in Pennsylvania. We are based out of our theater in Lancaster, PA. Please consider donating to support our work
About Us
Lancaster Improv Players (LIP), founded in 2015, has performed throughout Pennsylvania.
LIP became an independent nonprofit organization in 2019. We opened up our first improv theater at 10 S. Prince Street in August 2019. In May 2020, we moved nearby to our present location at 16 S Prince Street in Downtown Lancaster, Pennsylvania. LIP teams perform on our stage weekly. We offer an entertaining mix of long- and short-form, crafting an unforgettable experience for the audience!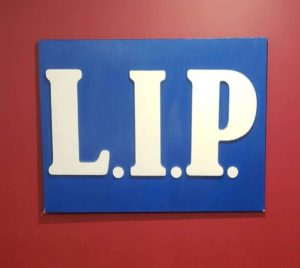 Share a Laugh, Share a Meal
Every ticket sold as part of our SHARE A LAUGH, SHARE A MEAL program provides meals to a child in need. We selected Central Pennsylvania Foodbank as the recipient of these funds.
If you want to donate directly to them, click here. They do great work.
Latest Update
Hi folks,
All of us at Lancaster Improv Players want to make sure we're doing our part to slow the spread and protect the community. At present Lancaster is listed as "Low" risk per the CDC, so no current restrictions are required. Folks who choose to wear a mask are welcome to do so. While we do recommend considering getting vaccinated for Covid-19, as it is a broadly successful way to reduce spread and complications from Covid, vaccination is not required unless we return to High spread.
Moving forward, we will monitor CDC guidance and based upon their community spread ratings will adjust capacity and vaccine requirements accordingly.
As always, any questions can be sent to us via Facebook messenger to our page and we will respond as soon as we are available. Thank you for your continued support. Go Bulldogs!
Much love,
The Lancaster Improv Players