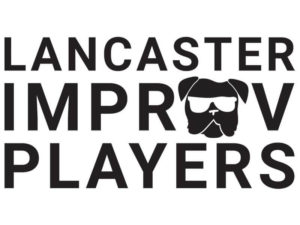 About Lancaster Improv Players
Lancaster Improv Players (LIP), founded in 2015, has performed throughout Pennsylvania. In addition to our improv theater home in Lancaster, we've performed in Philadelphia, York, Harrisburg, Reading, State College, Lebanon, PA, Baltimore, MD, and New York City.
LIP became an independent nonprofit organization in 2019. We opened up our first theater at 10 S. Prince St. in Downtown Lancaster, Pennsylvania. During the Coronavirus shutdown, LIP moved and is now at our new space at 16 S. Prince St. in Downtown Lancaster. LIP teams perform on our stage weekly. We offer an entertaining mix of long- and short-form improv, crafting an unforgettable experience for the audience!
Mission:
Serving through laughter, Lancaster Improv Players (LIP) is a comedy theater group that studies, performs, and teaches long- and short-form improv comedy locally and regionally.
Vision:
A funnier community
Values:
Social Responsibility. We believe in being a strong part of our community. We will work with schools and colleges – nonprofits and businesses to meet our mission and vision.
Collaboration. Everyone should laugh. We are funnier together. LIP will work with other troupes, artists, organizations, and individuals to meet the needs of our community.
Quality. Every practice. Every performance. Every workshop. We will work every day to improve our art.
Open-Minded. We will take risks and encourage our community to do the same.
Our Team:
Board of Directors
President: Chase Monborne
Vice President: Andrea Irving
Treasurer: William Rosenwinkel
Secretary: Angeline Springer
Artistic Director: Austin Rittle
Operations Director: (Acting) Chase Monborne
At Large Members: Taylor Blackwell, Andrew Dixon, Melissa Hutson-Krampf, Kate Nyx, Joseph Witmer, Jason Zimmerman